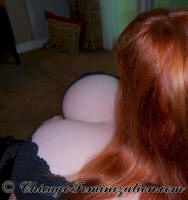 Goddess Madeline - A Professional Dominatrix and Lifestyle Mistress in Chicago with an affinity for Prissy Sissy Gurls, Cross-Dressing Dames, Transvestites, Rubber Dolls, Sugar Puff Hetties, & Cock-Sucking Cuckold Wimps
Click the play button to hear a brief greeting.
BIOGRAPHY:
I am an exuberant, well-educated, sophisticated, well-traveled, mature, female dominant; a voluptuous woman with soft full curves at which you will marvel. Some refer to me as a BBW, a big beautiful woman. My Rubenesque figure is accented by a lovely DDD natural bust line that I enjoy flaunting. I am statuesque, taller than the average female. I am known for my long fingernails and beautifully pedicured feet. I have flawless ivory skin and a perfect smile. My pretty face is framed by lovely, long red hair, which cascades to the middle of my back. My eyes are blue and quite expressive.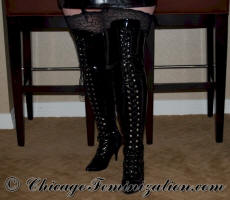 My passion is travel. I am an enthusiastic globe-trotter. My hobbies include reading English literature, enjoying a wide variety of music, art appreciation, design, architecture, concerts, live theatre, writing, and watching independent cinema.
Some of my favorite things are flowers, Latex (rubber), leather, nightclubs, animals, gardening, nature, swimming, flying, boating, sightseeing, and vintage lingerie (open bottom girdles, corsets, seamed stockings, garter belts, RHT hosiery, nylon pantyhose, high heel shoes, thigh high boots, nursing bras, bullet bras, cone bras, and bustiers). I love retro attire, and truly believe ladies should still wear hats and gloves. I have a weakness for men in uniform and guys in Fedoras.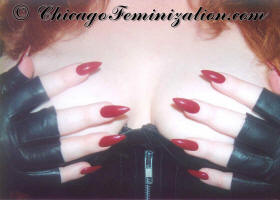 My radio appearances include spots on WKRK 97.1 FM (Kramer & Twitch, Hamtramck House Party) and WXOU 88.3 FM (Untitled Radio) in Detroit. My television appearances include doing a labial infusion in the British TV documentary "Drastic Plastic." My personal appearances include guest speaking about professional domination at Whipstock 2003, performing demonstrations of enemas and other techniques at Florida E-fest, coordinating numerous fetish shows throughout the Midwest, performing demos at alternative lifestyle events, presenting at gender conferences, organizing and hosting the annual Chicago E-fest, organizing and hosting bi-monthly Chicago AB/DL Slumber Parties, and speaking at colleges and universities on various subjects.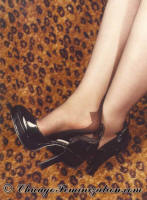 I entered the professional BDSM business in 1999. I love my chosen career, and it shows. I cannot think of anything I would rather be than a professional dominatrix. I am also a lifestyle mistress, which means that I live the D/s lifestyle 24/7 and maintain a stable of personal slaves. I am kinky to the core.
I savor all aspects of BDSM and fetishism and am highly skilled in all facets of domination, role-play, and fetishes. I do it all and have few limits. However, I will respect your limits. I can set the scene for whatever your perverted little mind can imagine. I am an expert in many fields. I am the real thing! Quite simply, I am vastly experienced, extremely open-minded, highly skilled, endlessly talented, incredibly intuitive, exceptionally sexy, and extraordinarily sensual.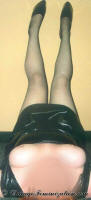 I attended Be-All 2010 in Chicago and the Southern Comfort Conference (SCC) 2010 in Atlanta, so I am very in-tune with the trans community, particularly transwomen.
I have been around drag queens since I was 18. I have a close bond with the LGBT community, having many friends within it.
TG/TS/TV people are near and dear to my heart.
By Madeline Schadenfreude